Wilhelmina Barnes-Graham: Rocks, St Mary's, Scilly Isles (image from here)
This travelling show is at the Pallant House Gallery in Chichester at present. I had been curious to see what the show would include, and why, and was impressed with the ground that is covered - both of the writing, and of the art gathered for the exhibition.
The paintings, sculpture, fabric designs, photographs, videos etc. do not only come from contemporaries of Woolf, but also from all the way up to contemporary artists. The categories covered are Landscape and Place,

Still Life, Home and 'A room of one's own'

, The Self in Public, and The Self in Private. It was all most thought-provoking.
Wilhelmina Barnes-Graham: Blue Stone El Golfo (image from here)
The works which struck me most in the first section: Landscape and Place were paintings by Wilhelmina Barnes-Graham, of whose work I am already a great fan. These three sang across the years with to me as much impact - if not more - as anything contemporary.
Wilhelmina Barnes-Graham: Cliff (image from here)
In the Still Life, the home and 'a room of one's own' galleries I was delighted to find fabric designed by Enid Marx, Vanessa Bell, and Marion Dorn
Vanessa Bell: Pamela fabric design (image from here)
Vanessa Bell: Maude fabric design (image from here)
Enid Marx: Fishnet fabric design (image from here)
Barbara Kasten: Untitled 13 (image from here)
I was intrigued by photographs by Barbara Kasten. She made models - sculptures in fact - and photographed them. I have seen several sculptures made of perspex in the 20th century but which now are frankly quite 'manky' looking. It was great therefore to see one as the artist who had just made it wanted it to look - even if that is not in three dimensions.
Barbara Kasten: Untitled 11 (image from here)
Of course Kasten made these in the 1970s, so I persuade myself (remembering that decade well) that perhaps the models might still look reasonable.
The Self in Private included much feminist art which did not attract me, and with an exhibition encompassing so much diverse work I tend to focus on what attracts, delights, or intrigues me. Certainly the two works by Hannah Wilke in this gallery seduced me. Each is a vintage postcard with added kneaded eraser sculptures.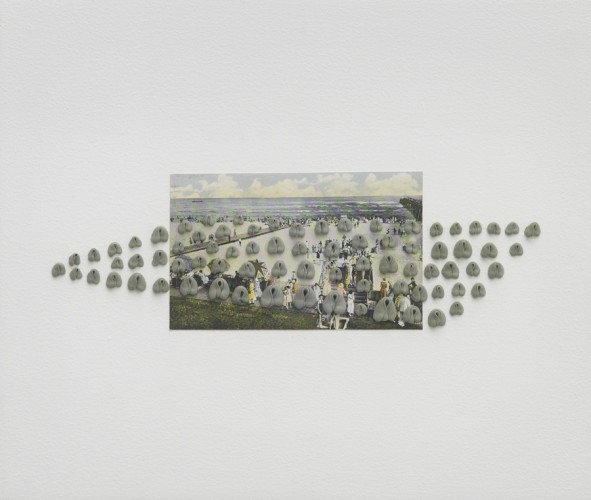 Hannah Wilke: Atlantic City Boardwalk (image from here)
Hannah Wilke: Sea Wall (image from here)
I just love the way they look - but I have no idea why I am so smitten. Having looked at her website, there are only one or two other similar assemblages which I'm drawn to in her work.
Lili Dujourie: Passion de l'ete pour l'hiver still from video (image from here)
In a gallery between The Self in Private and The Self in Public there were video screens. One drew me close, and made me think. Lili Dujourie's video did not have headphones, and I was quietly mesmerised by the simple presentation of a woman at a window, moving gradually round, with a dog lying nearby.
Michelle Stuart: Earth, Standing Stone, Wiltshire, Avebury, England (image from here)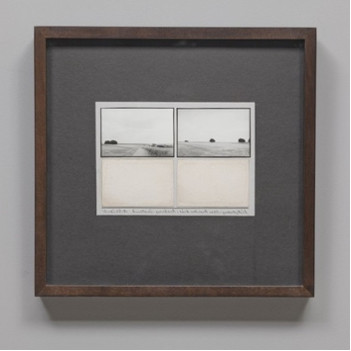 Michelle Stuart: Ridgeway near Overton Hill, Avebury, England (image from here)
In the same room there are several neat intriguing works by Michelle Stuart which I thought should have been with the Landscape works. The pieces on view are beautiful encapsulations of labelled samplings, evidence from magical prehistoric areas of England. The earth from the area is presented below photographs, rather like sheets from a Victorian collection. I'm not sure if the illustrations above are ones in the exhibition, but these are similar. They very much reminded me of the work that Debbie Lyddon has being doing with pigments from the Norfolk coast.
Gwen John: Self portrait (image from here)
The Self in Public included many portraits, and my head already being full of too much thinking I was drawn only to an old favourite: Gwen John's Self portrait. This makes a great top and tail to the exhibition, as I love Laura Knight's woman by the sea which is the first room of the show. Both images are taken from this blog post of the exhibition. Here is a review of the exhibition when it was at the first venue of Tate St. Ives.
Dame Laura Knight: The dark pool (image from here)